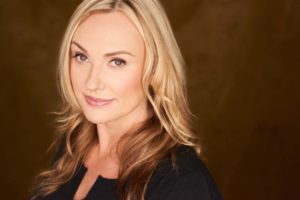 Actress-comedian Chantel Rae is proof that a girl can be hot and funny! Even though the Blonde Bombshell was born in Lubbock, Texas, she's sooo L.A. Her party-girl attitude has everyone wanting to go out with her.
Chantel wasn't a blonde. In fact while growing up in Texas, she was a brunette Class President, an exchange student to Australia, and a calculus tutor. Then she went blonde and everything unexpectedly changed. To this day Rae has nightmares of reverting back to her brunette days. "It was even scarier in the morning, cause after dreaming that I'm a brunette, I wake up and I think I suddenly have responsibilities." Miss Rae earned her SAG Card, by being murdered in a bathtub in a Pamela Anderson's film, "Naked Souls". She later co-starred in the film, "Far from Bismarck", which won Best Comedy in the New York Film Festival. And also co-starred in the comedy, "How to Make Love to a Women". You may recognize her from her recurring role as Candy in Comedy Central's "Strip Mall", sketch comedy on Fox's "Best Damn Sports Show Period", and her stand-up comedy on TBS – Pauly Shore's "Minding the Store", Byron Allen's "Who Wants to Date a Comedian" and "Entertainers with Byron Allen". She was also featured on NBC's "Last Comic Standing"!!! She also appeared on FX's "Dirt" and "Nip/Tuck"!!! Not to mention, but Ms. Rae was a contestant on the Price is Right. (Let's just say, her acting skills are better than her pricing skills.) Look out for Ms. Rae in the upcoming film, "Better Criminal".
A favorite at comedy clubs, Chantel has performed at The Icehouse, The Comedy Store, The Improv and The Laugh Factory to name just a few. Her stand-up has also been nationally syndicated on Premiere Radio, GoTV, the Comedy Time Network and 1KTV. Chantel also performed at the Boston Comedy Festival. You can also read her jokes in: "She's so Funny", "Loves Funny That Way", and "the Comedy Thesaurus" all by Judy Brown. Not to mention Readers Digest (April 2010)
"Chantel Rae has an energy that is contagious. You can't stop laughing or staring at her!